Overview
Edit
Crates are boxes that appear all the time on maps and can be purchased with Robux. A user gets a crate and opens it in the crates menu for a wide variety of item blueprints. Unlike other games, Crates don't require any keys to open but doesn't give items but blueprints that allow you buy the items from the shop. There are currently seven crates: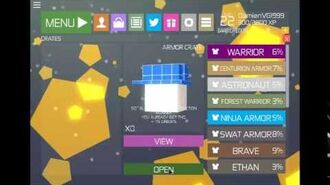 This page is still under construction and is subject to change. More crates might be revealed as the wiki contributors play the game.
Pages in category "Crate"
Ad blocker interference detected!
Wikia is a free-to-use site that makes money from advertising. We have a modified experience for viewers using ad blockers

Wikia is not accessible if you've made further modifications. Remove the custom ad blocker rule(s) and the page will load as expected.